Today was a rough day, for two reasons. One reason was completely inconsequential – it was very long. The other was of a much more serious nature. We visited one of the almost 300 killing fields from the Khmer Rouge period  here in Cambodia in the 1970s. It was difficult to imagine such horrors took place in the now peaceful rural area about 15 kilometers outside of Phnom Penh. On the way to visit it, our local guide told us how his own family had been directly touched by this awful time. A brother of his and his uncle were never seen again after being hauled away by the authorities. He was separated from his parents and barely escaped being captured by Pol Pot's minions, only because he was wise to the ways of the countryside and knew how to climb trees and find hiding places. All this as a 10 year old. At the killing field, we were shown the mass graves, many with fragments of clothing, bones, teeth, etc. still being uncovered by seasonal rains to this day. A monument to those lost includes stacks of skulls unearthed in these fields inside glass cases. Absolutely sobering.
From there it got no better. We were transported back to the city to the Genocide Museum. It is housed in a former high school which was taken over by Pol Pot's regime and became a detention and torture center for those whose fates would later be death in the numerous killing fields. It was brutal looking at the inhumane way in which these people were housed and mistreated. Photographs of thousands of the victims line walls in former classrooms. This is a necessary place for people to know about but very hard to take.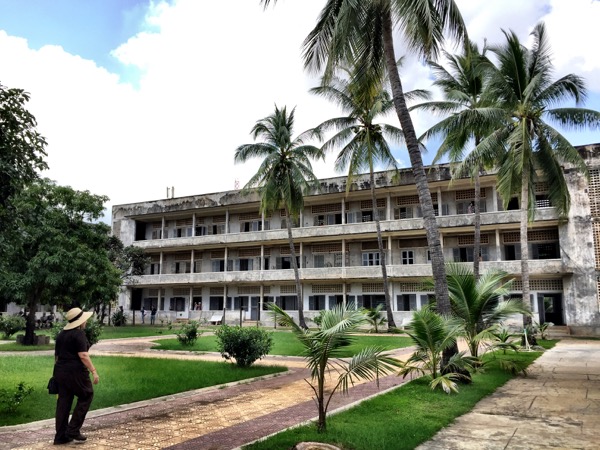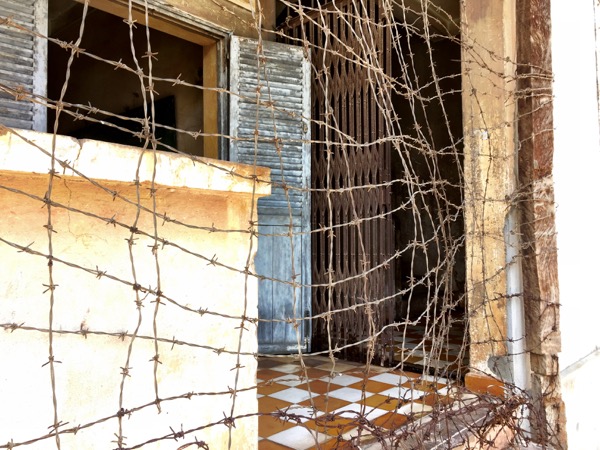 Following this difficult morning, we were offered a respite of lunch at a very nice Phnom Penh restaurant. The meal was a feast of authentic Cambodian dishes, most featuring seafood and vegetables. It was quite delicious. After lunch, we were transported through streets packed with cars, motor bikes, buses, tuk tuks, and food carts. Due to the King being transported between a memorial site for Cambodia's independence and his palace, many streets were closed off. The array of vehicles meandering in and out and going all sorts of directions, no matter whether they were where they were supposed to be or not, provided a visual feast for us from the raised vantage point in our bus and kept us entertained during what should have been a short ride but wasn't. We were actually going to visit the King's Palace while he was off on his official business away from the palace at the memorial site. We finally arrived there and found it to be a different kind of visual feast. The grounds are immense and highly decorative. We imagined it to be something of an Asian version of Michael Jackson's Never Never Land. Whatever, it is beautiful place with different buildings housing different collections of things. One, called the Stone Palace, is where the King's throne is at the end of a long red carpet. Another housed antiques from the royal family. All in all, a very interesting place.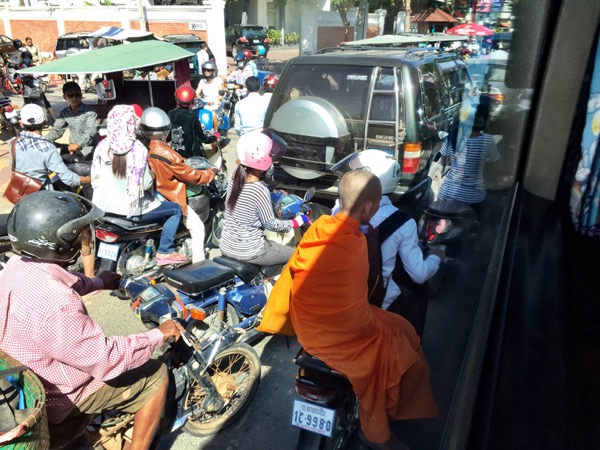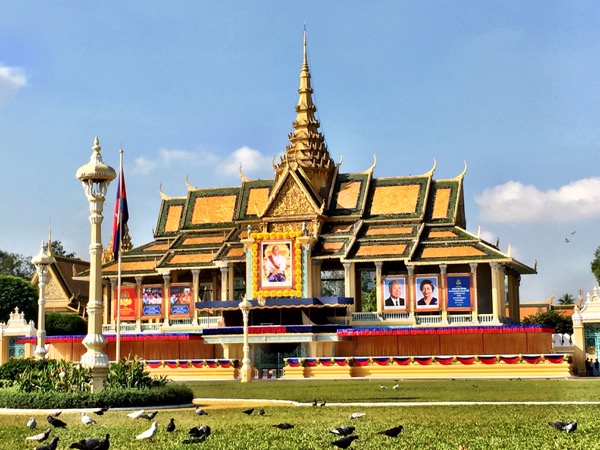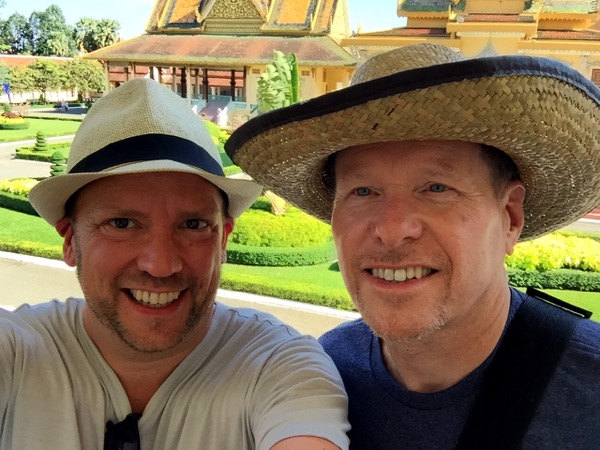 From the King's Palace, we were transported again by bus to the National Museum of Cambodia. It has, primarily, relics dating back to the 6th century. We learned of the Hindu heritage from those early periods up to when Buddhism came into fashion. Many of the statues and decorative etched stone works are from temples scattered around the country, including the famous Angkor Wat. It whet our appetite for when we'll be at Angkor Wat later in the week.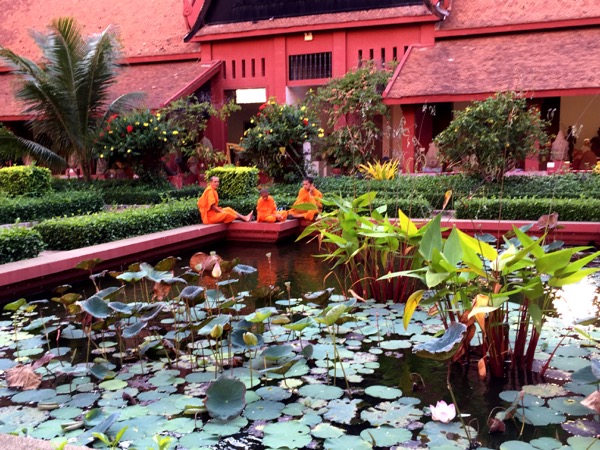 To end our day's excursion, the cruise line had arranged for us to be transported by cyclos from the museum back to the boat. Weaving in and out of busy traffic  with cars and buses only inches away was a bit of a nail biter at times but a fun way to end our day away from the boat.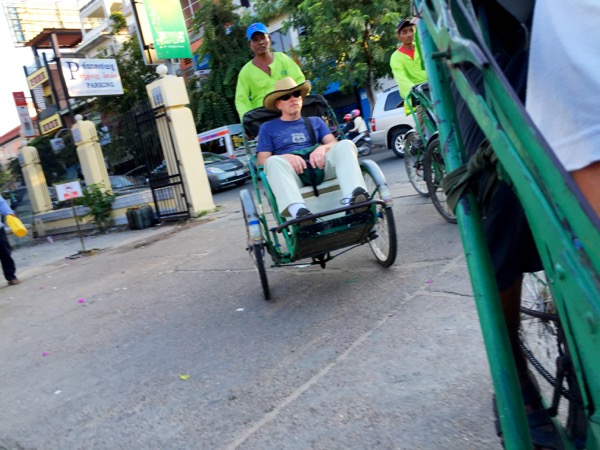 Yet, the day's activities weren't over. We were treated to an outdoor barbecue meal for dinner on the top deck of the boat with professional singing and dancing by a talented group of Cambodian young adults. Other than stifling heat and humidity, it was a fitting end to a busy day that included both serious lessons about past life here in Cambodia and the, hopefully, bright future of its younger citizens.