Our flight home to Seattle didn't leave until 10 p.m. on Sunday so we still had a full day to finish up our time in Rome. Having watched the movie Roman Holiday while there, we were aware of the scene where Gregory Peck takes Audrey Hepburn to the Mouth of Truth and tells her the legend. When you place your hand in the face's mouth, if you have lied your hand will be bitten off. It turned out to be not that far from our apartment, in an outdoor vestibule of a Greek Catholic Church, so we strolled down the banks of the Tiber River and soon found ourselves in line with other Roman Holiday aficionados. The line moved quickly and a family from Spain who was in front of us offered to take a photo with both of us in it. By the way, our hands remained attached to our arms – whew!
From there we decided to walk back toward an area we had visited earlier in our trip and see if a local artist, whose work we had admired, was in the same place. To get there, we walked through an area we'd never been in. It turned out to be a predominately Jewish area of long-standing note with interesting shops and restaurants featuring Kosher food. It was quite quaint and pretty. There was also a mini supermarket with an interesting name.
Soon we were back at the Roman ruins near the Torre Argentina (which has nothing to do with Argentina, the country) where we had first met Ani, a local artist. We had admired his art but hadn't bought any when we were there on Friday. As luck would have it, he was there working on a painting of the part of Rome where we were staying, Trastevere. There was another painting he had finished of Trastevere and we ended up buying it to have a remembrance of the narrow cobblestoned streets and colorful old buildings of our temporary Roman neighborhood.
Feeling hungry by now, we searched for an authentic Italian restaurant where we could have our last meal in the city this trip. We found it in Osteria da Fortunata. In a large window facing the narrow street, where some diners were sitting at tables, was this woman making the pasta for everyone to see. She was quite the ham and enjoyed her work and the attention she got for it.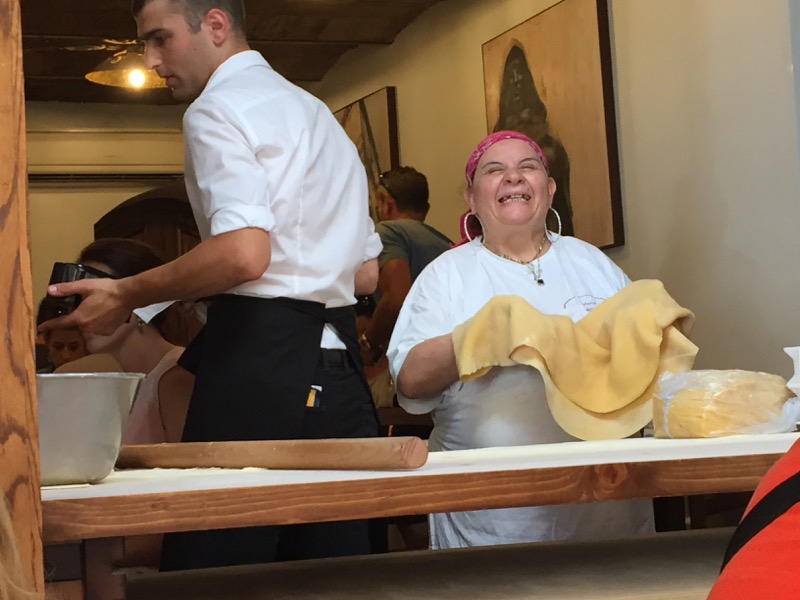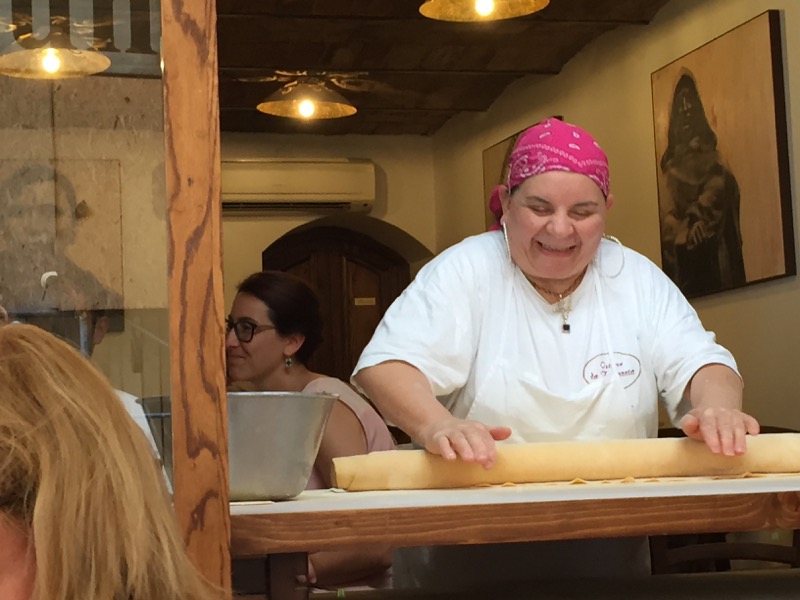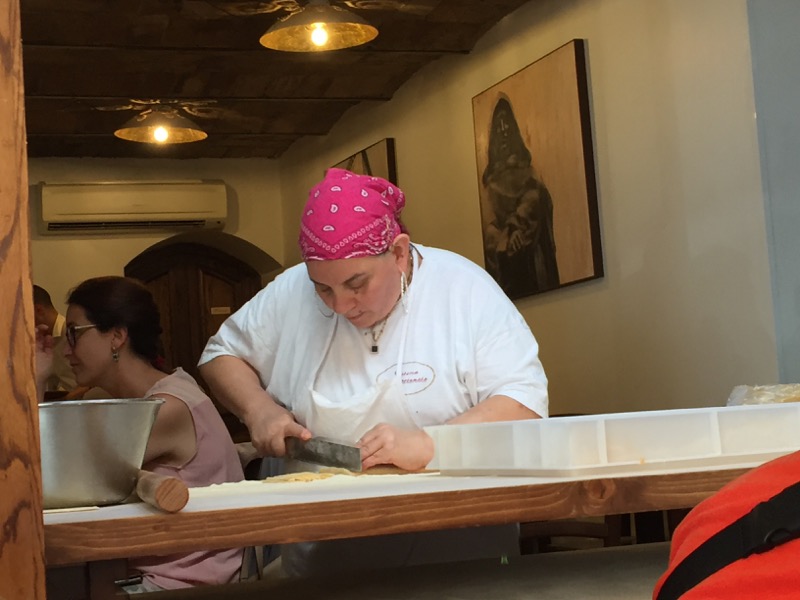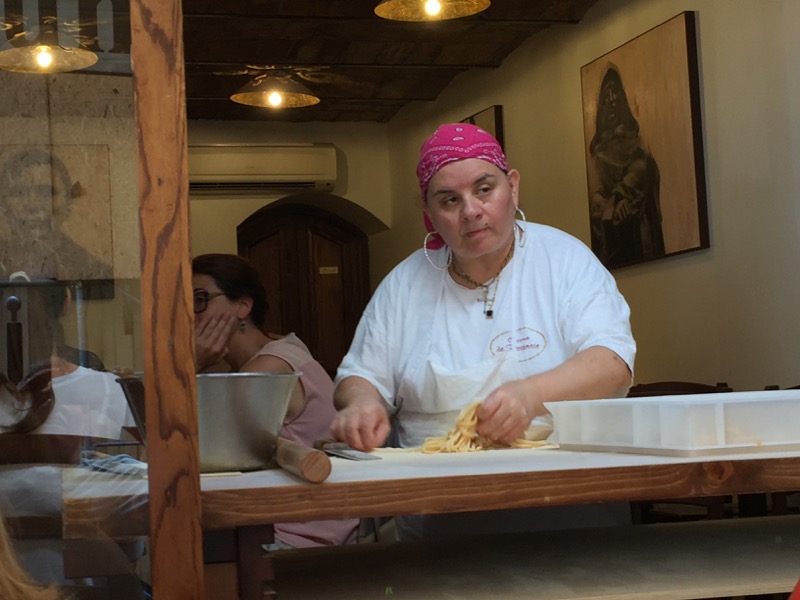 We sat at a table near the window and had a great view of her carrying the freshly made pasta, rolling it out, flouring it, and rolling it out again. Then she sliced it into narrow noodles and collected them into a container to be used in the meals that would be prepared.
And, seriously, the two pasta dishes we had there were probably the best of our whole trip. Ryan had an arrabbiata dish and I had a pomodoro and fresh basil pasta with tagliotini noodles. It was a great way to end our dining adventures in Italy.
Eventually, it was time to leave and we had a wild ride to the airport with a typical Roman cabbie. While he was racing through the streets and along the Autostrada, he was talking loudly on his cell phone and gesticulating wildly as only the Italians can. Still, he delivered us safely and well before the time we needed to be there! We went to a lounge we had access to since we had several hours to pass until our flight and ended up having an international round-table discussion with other travelers. The lounge was so crowded that they were seating people together at tables. At our table was a guy from Rome on his way to Buenos Aires and a couple from Tel Aviv who had been in Rome for a long weekend. We all got along well and had fun talking together. It was nice that everyone had a command of English or it could have been a very quiet table. Finally, we boarded our Emirates flight to Dubai for the first leg of our trip home. While waiting to take off, we were offered orange juice which was so delicious. The flight attendant was like, "Well, we're in Italy!" as an explanation for why the juice was so good. Ryan and I both slept the whole 6 hour flight to Dubai.
We landed in Dubai at 6 a.m., Monday morning, and went right to the lounge where we had access to have breakfast and relax before the final flight segment home. Dubai has a beautiful airport and we definitely felt like we were no longer in Rome!
After a few hours in Dubai, it was time to board our plane for the 15 hour flight back to Seattle. Once again we were on an Emirates flight and the service and comfort levels were impeccable. It made flying that distance so much more palatable. Flying in style is all thanks to Ryan's busy and heavy flying schedule all year long where he acquires enough miles for us to be able to purchase Business Class seats. Thanks, Ryan, for all your hard work!
Taking off from Dubai made us feel a little bit like we were back in Palm Springs, only there are much, much larger expanses of nothing but sand stretching as far as the eye can see. Then suddenly the sand abuts right up against water as you fly across the Persian Gulf and over Iran. From Iran we flew over the former Russian states of Turkmenistan, Uzbekistan, and Kazakhstan before entering Russian air space all the way north to the Arctic Ocean. We slept over most of that, not waking up until we noticed a definite change in the landscape below.
By the time we crossed the North Pole, we'd already been served two meals – a brunch and a dinner and we were actually feeling pretty rested. It was interesting to see what it looks like on the top of Earth and follow along on the screens in front of us with camera pictures and maps of our route.
After a final meal, called "Light Bites", over the Yukon we didn't have long to go until we landed in Seattle around 1:30 p.m. on Monday. By then we'd been traveling over 24 hours to get home from Rome and it seemed amazing that you can even do that in a relatively quick time. This was definitely one of our best trips ever and we had experiences we'll always cherish. Thanks for joining us vicariously along the way!