What a wild day it was! On Thursday, 13 November, our riverboat pulled into Kampong Tralach on the Tonle River. On the banks, waiting for us, was a series of oxcarts. No, not cleaned up, pristine oxcarts. Oxcarts that were likely hauling hay the day before. Our transportation from the ship to the village's monastery was to be by oxcarts, with two passengers per oxcart. Can't say we've ever done this before!
As we rambled down dirt roads and paved ones alike, the carts shook with a vengeance. The rickety wood held us in our two-man oxcart (perhaps soon to be an Olympic sport?) and we enjoyed the scenery along rice paddies, through neighborhoods, and finally to a Buddhist monastery. Along the way, a boy from Kampong Tralach ran up to meet our cart and be our "guide on the side." He spoke a little English and was cute as could be. Every once in awhile, he would point to something on the side of the road and tell us what it was. "Rice!" he would say … and then he'd run off and grab us a stalk of rice and bring it back. At one point, he ran off, was gone for a bit, and came back with a beautiful lotus blossom that he had carefully folded the petals into points and made a sort of origami piece of work out of it. He told us his name … and our Yankee ears could only understand it as "Roger." He stayed with us on the tour around the monastery and then back to the boat … the kid got his exercise that day. When we were back, we gave him some crayons and markers that we had brought along from the States.
We got to the monastery and toured around. It was interesting, but we didn't take any photos, oddly enough. We were just taking in the sights. But two of the monks came onboard our boat and gave a blessing. It was intriguing to observe how lay people and the monks interacted and how members of The Jahan's crew participated in the blessing.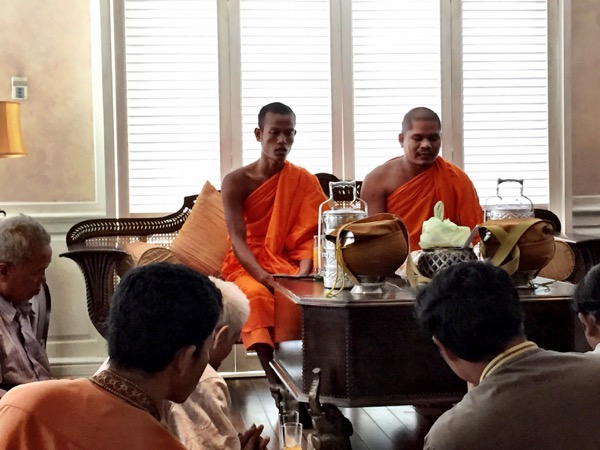 Soon, it was anchors up and we putted along towards Kampong Chhnang (no, that's not a misspelling with one two many 'h' letters) during lunch. Kampong Chhnang is a fairly large town of about 50,000 people. We didn't spend a lot of time in town, though. Instead, we took minivans to the outskirts of town to visit some unique pottery operations. The first was on a family farm. This one family has been making pottery for centuries, generation after generation. We watched as a woman took a hunk of clay and, without a pottery wheel, turned herself around the clay lump again and again until she had a perfectly shaped clay pot. They then fire these in stacks of twigs and wood set ablaze and what results is sturdy terra cotta earthenware that serves a number of purposes.
A gentleman from her family then demonstrated to us how he climbs massive palm trees (in flip flops, no less!) and retrieves bamboo containers filled with palm syrup. This guy seemed to take a shining to Clint. He dressed Clint up in the garb to go palm syrup collecting, traded hats with him, laughed and laughed, then put his arm around him, pulled him close, and gave him a kiss on the cheek! Perhaps this is close enough to legal marriage in rural Kampong Chhnang.
Clint was happy enough to get to try some of the caramel made from the palm sugar. Perhaps this is a match made in heaven!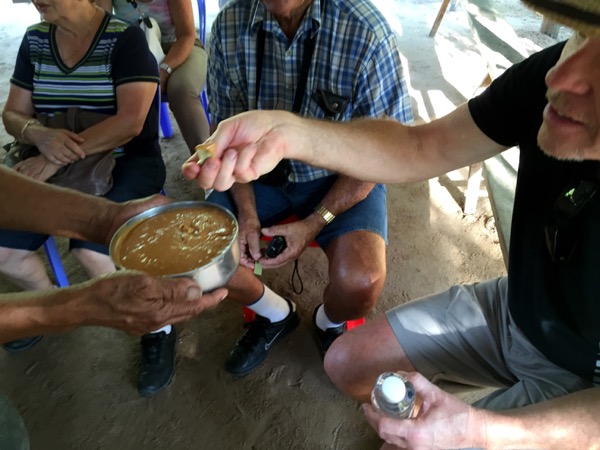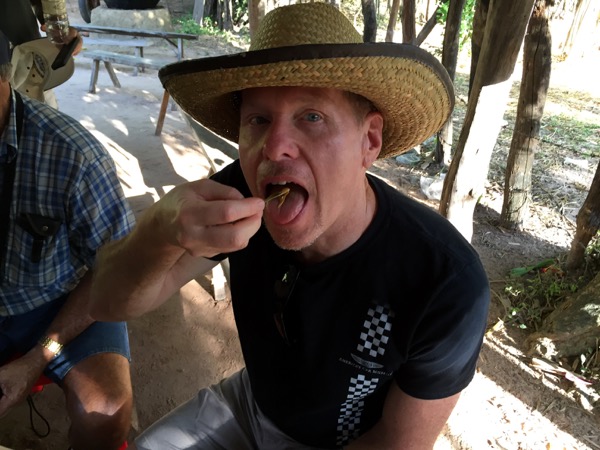 We then visited a small ceramics operation, partially supported by a Japanese firm. They use local materials to make some very nice ceramic ware and teach locals a trade.
What was the most spectacular about this area was the scenery. It was absolutely gorgeous. The golden green fields of jasmine rice, the green mountains, blue skies … it was postcard perfect.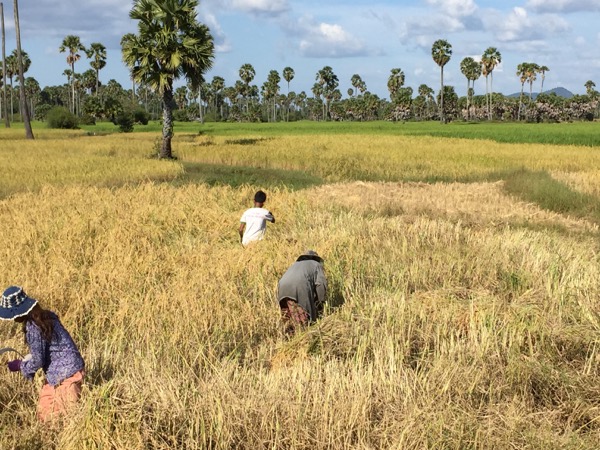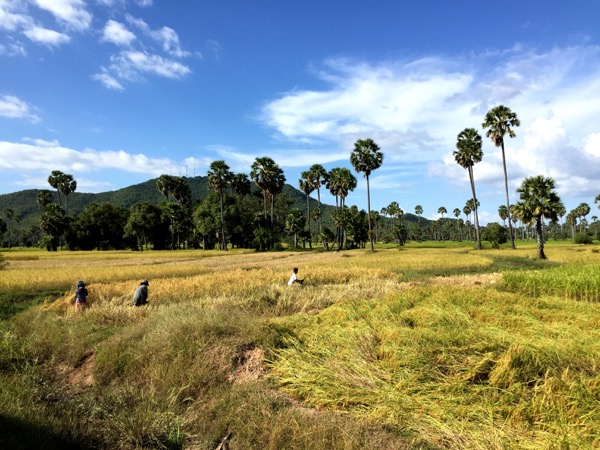 Back at The Jahan, we paused a moment to get a last glimpse of the area before we set sail again for more adventures. What a beautiful, beautiful land with people living simply.